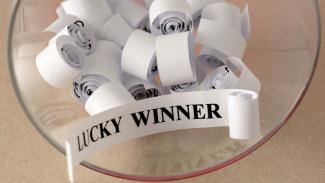 By Gary Silverman, CFP®
18-27-29-31-42-06. Those numbers almost made me a billionaire last year.
I took a friend of mine who was in town to Fun Noodle restaurant for lunch. After a satisfying meal, we were presented with dessert in the form of fortune cookies. While I'm more of an almond cookie guy (I've been known to eat a dozen when visiting a buffet), fortune cookies are fun too.
Ours had a witty fortune on one side (sorry, the words have faded from my memory), and on the reverse, a set of numbers. Perfect! A lottery just shy of $2 billion was being drawn the next day. There is a gas station just down from my residence, so I walked over to get my lottery ticket.
What?! An intelligent (thanks), good looking (I'm starting to blush), expert (that's what I tell people) financial dude is playing the lottery? That just doesn't make sense.
No, it does not. I am actually against the lottery. I voted against it because studies of such "games" shows that disproportionately, those who can least afford to throw away money are the ones who play, play more often, and with a greater proportion of their income. (I'll let others continue to argue whether this is intentional or not.)
I consider that a bad thing, and I'm always going to be opposed to the lottery. But I have no problem playing it. I can afford to lose $20 a year (about what I tend to spend) for what I consider to be entertainment.
But for me, I'm not entertained unless the odds are reasonable. Crazy is okay, I just don't like stupid. And if a lottery pays out with a little under 1 in 300 million odds, I'm not buying in if the winnings are under $600 million (the ticket costs $2) under the cash option after taxes.
That requires a pot to get close to $2 billion, though I tend not to quibble as long as I see 10 digits.
I think I promised about 20 different people $1 million each if I won. I am sure I would have thought of others. It would be cool to be able to give someone a million dollars without affecting my budget at all. I had chosen where I would have my several residences. More charities were added to the foundation I was setting up in my head.
And I remembered to ask the Lord to let me win unless it would mess me up. This is a common problem as lottery winners are replete with examples of a win leaving them, after time, in a worse financial position than they were before.
Given my career, I think I could handle the money just fine. But could I handle wondering whether someone liked me because of me or my money—not really a current problem.
Unfortunately, either the fortune cookie was for a different lottery, someone else needed the money more than me, or God protected me. Certainly, it wasn't the odds.
May God Protect the Innocents in Ukraine