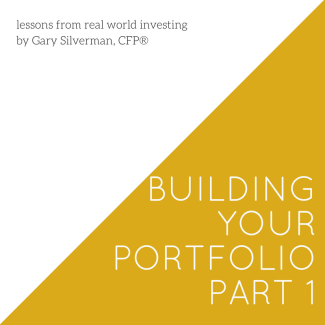 Building a Portfolio: It Starts with YOU
By Gary Silverman, CFP®
In past articles, we've discussed your investment risk tolerance and the importance of a diversified portfolio. "That's great, Gary," you say, "but how do I decide WHAT to put in my portfolio?"
OK, then. Let's start by discussing what we do at my firm.
It may seem strange, but when we build an investment portfolio for a client we are not going after the best returns (though we certainly aren't trying for low ones either). Rather, we are trying to provide investment advice that will give clients a reasonable return, at a reasonable risk, and provide for their goals. To do this, our investment advice has certain characteristics.
For clients, this answers the question, "What do we do with your money?"
We don't begin with a list of top stocks. We don't start the process by pulling up the latest Morningstar mutual fund ratings or by predicting the direction of interest rates.
We begin with our clients.
We learn about them, their needs, their tax situation, their tolerance to the ups and downs of the market, and much more. Their goals become ours.
And this is exactly why we've gone over so much before getting to this point. You need to look at your situation, what you are saving money for, what kinds of investments make sense for you, what your tax situation is, how much variability in returns your goal can stand, how much bounciness in the markets your stomach can stand, and much more.
There are a myriad of investment strategies out there. Most are carefully honed based on long-term studies of asset allocation, rebalancing techniques, and long-term investment trends.
In other words, they are best guesses as to how to get the greatest long-term return with the least amount of downside portfolio volatility. That said, they can't all be the best, and some are probably downright wrong.
So, if you are doing this yourself, once you have figured out your investment goals, how do you go about constructing your portfolio? How do you determine what mix of investments you should have?
I don't know.
Okay, I do know how I do it. I know how several other investment managers do it. What I don't know is how you should do it.
Don't worry, I won't leave you there. Next week, we will discuss the portfolio construction process. At its core is asset allocation.
Here's another thing to look forward to: a free seminar. Attorney Dan Campbell, Personal Money Planning Managing Director Michelle Kuehner, and I are teaming up to share important information about Trusts: How to properly create and maintain them, and how to protect assets both within and outside of the Trusts. We'll meet at the Homewood Suites (2675 Plaza Pkwy) on August 31 from 6 to 8 p.m. RSVP by calling 940-692-6885.
Gary Silverman, CFP® is the founder of Personal Money Planning, LLC, a Wichita Falls retirement planning and investment management firm and author of Real World Investing.