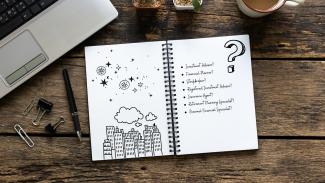 Choosing a Financial Advisor: Part Two
By Gary Silverman, CFP®
Investment advisor, financial planner, financial advisor, stockbroker, registered investment advisor, insurance agent, retirement planning specialist, personal financial specialist…what the heck do these mean, and what do they do? Heck if I know! You see, some of the titles above require specific licenses, some infer a certain level of expertise, and some don't have any requirements at all.
Instead of going through a very long list, with dozens of possible titles and designations, I'm going to concentrate on those that may have a broader scope of expertise—what you might be looking for if you were asking for a financial planner.
In the world of financial planning there are many designations used, but there are three which I hold in the highest regard. The first is the one I carry: CERTIFIED FINANCIAL PLANNER™, or CFP®. The other two that earn my approval and respect: the Personal Financial Specialist (CPA-PFS), and the Chartered Financial Consultant (ChFC). Each requires formal education, testing, and experience in order to obtain the license, as well as a commitment to continuing education to stay licensed.
You can find more information on these online. Sadly, I've found that the information provided by the governing bodies controlling these designations do a rather poor job of explaining why you should use folks who have their particular designation. The CFP® Board website covers some questions you might have as well as a way to find a CERTIFIED FINANCIAL PLANNER™ in your area (letsmakeaplan.org/). The American Institute of CPAs (www.aicpa.org) deals with the Personal Financial Specialist designation. Finally, for information about Chartered Financial Consultants, go to theamericancollege.edu.
Yes, they all sound the same. Yes, each organization believes theirs to be the best.
To me, each has their own "flavor." I find that many CFP® practitioners tend to have a background in the investment field or a college program specializing in financial planning. The Certified Public Accountant-Personal Financial Specialist (CPA-PFS), as you might suspect, tends to have a tax emphasis. On the other hand, Chartered Financial Consultants (ChFC) often come out of the insurance world, though they have been more mainstream over the last decade (and arguably have the better breadth of courses).
With that said, any one of the three can handle most of your questions, depending on the specific expertise of the advisor. And even if they don't know the answer, they should be able to point you in the direction of someone who can help if they don't have the required expertise. So, just because they may lean toward a certain "flavor," their tastes are influenced by their individual qualifications. Because of this, I wouldn't limit myself to considering only one designation.
We'll look at how to determine the expertise of the advisor next week.