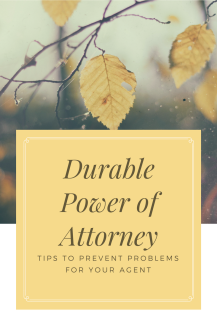 Durable Power of Attorney Woes
By Gary Silverman, CFP®
In past columns, when talking about estate issues, one of the documents that I harp on you having is a Durable Power of Attorney (DPOA). This document allows you to designate someone else to handle your financial affairs if you can't do so.
In an excellent article in Elder Law Today, local attorney C. Dan Campbell's brought up the situation where sometimes the person you gave powers to, called an "agent," will go to your financial institutions to try and get something done and the institution might say "no" even when they see your DPOA.
Look at it from the institution's point of view: how do they know the Durable Power of Attorney is valid? The DPOA could be a rescinded one, because of a falling out. Or maybe it's forged. Financial institutions want to protect themselves from a potential lawsuit and the resultant liabilities.
Here are some tips from Dan's newsletter:
The institution might have their own forms they'd prefer you use. Fill those out so that they feel more comfortable obeying your agent's orders.
Introduce your agent to your local financial institution so they can get to know each other.
If an agent can't get approval, ask why. You might be able to change some wording on the document.
Have your lawyer talk to the legal department. Sometimes the front-line staff is misinterpreting what their firm's requirements are.
If none of that works, and especially if you are the agent and the principal is no longer competent, a lawsuit might be necessary to get the DPOA honored. Or, in extremely rare occasions, a guardianship might be a last resort. This is the situation the Power of Attorney was trying to avoid, but sadly sometimes circumstances require it.
A friend of mine once woke up in a hospital weeks after a car accident. Like her, you don't always get advanced notice of a prolonged inability to handle your own financial affairs. Who will fill out your taxes? Who will pay your bills? Who can okay recommendations from your financial adviser? Who can do the myriad of little (and big) things you normally do to keep your financial affairs in order?
That's why you need a Durable Power of Attorney. It, a will, and a Healthcare Power of Attorney are the three foundational documents of your estate planning.
If you want to get on the mailing list for Elder Law Today, call Dan's office at 940-696-5015. While you're at it, you can also RSVP to a few seminars he and I are having soon (click here for more information).
This article was published in the Wichita Falls Times Record News on March 12, 2017.
Gary Silverman, CFP® is the founder of Personal Money Planning, LLC, a Wichita Falls retirement planning and investment management firm and author of Real World Investing.