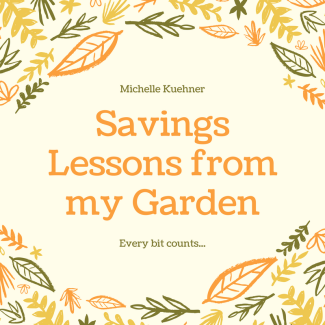 Growing Savings while Growing a Garden
By Michelle Kuehner, Financial Coach

If you know me at all, you know I like saving money on just about everything I buy. I'm always looking for a good deal. If you run into me at the store, I'll be happy to peruse your basket and give you a few tips for getting a cheaper overall grocery bill (like price matching, for example).
This year we decided to plant a garden. The reason wasn't't entirely to save money on produce. I've wanted to have a garden for a while, but was never motivated enough. I'd procrastinate until after the prime planting season had passed. I'd always promise myself that next year would be the year, until next year came around. I always found an excuse to not till the soil, dig up the old bush that was in the way, or purchase bricks to build the garden frame. Well, until this year.
After many hours of yard work and many dollars' worth of supplies, seeds, and additional soil, I have a garden. Not large enough to rent a booth at the farmer's market anytime soon, but large enough for us. Will it save us a lot of money on our produce bill? Probably not, considering the amount I spent to make it pretty. However, it did teach me a few new savings techniques.
Not long ago I reviewed a site called Raise. The site sells gift cards you can purchase at a discount. Sometimes you can snag a discount of up to 30% off the retail price. Now before you get skittish, they also offer a one-year 100% money-back guarantee if the card you purchase has an incorrect balance, is invalid, or gets lost in shipping (if it's not available electronically).
When I decided I needed some more mulch and some additional flower pots, I searched my area stores. I found that Lowe's had the best prices on both. And while the mulch was already on sale for $1.33 less than the next lowest price per bag, I felt I could still do a little better.
I pulled up the Raise site to see how much Lowe's gift cards were running. To my surprise I snagged 3% off of $25, and was eligible to receive $10 off of my first $25 purchase. But I didn't't stop there: Raise was also listed on Ebates, where I received an additional 1% cash back rebate.
After making my gift card purchase (if you purchase an e-card, you will typically see your card immediately), I headed back over to the Lowe's site, activated Ebates for this particular store, received a 3% cash back rebate, and used the discounted card to pay for the purchase. Viola!
To make matters even sweeter, I didn't't have to push a basket through the store, potentially picking up additional items I didn't't need. I just had to head to customer service where my paid order was waiting.
Simplified shopping...and savings.
Michelle Kuehner is a Registered Investment Advisor Representative and Managing Director for Personal Money Planning. She is also a Certified Credit Counselor, Certified Financial Health Counselor, writes Fix Our Budget blog, and has over 24 years of experience in the financial industry.