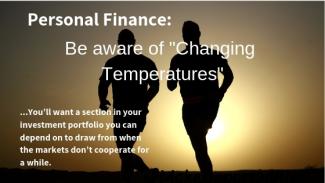 How Training for a Marathon is like Managing Your Finances: Lesson 12
By Gary Silverman, CFP®
My attempt at a marathon had started. I was blessed by the absence of rain. Temperatures were cold, but I was dressed appropriately for it. My top layer was a windbreaker that also acted like a thermostat—I could raise and lower the zipper to cool down or warm up as conditions warranted.
The first half of the run was relatively easy. There were hills, but they were gentle. There were many sideline antics that made the morning go quicker: The decorated neighborhoods we ran through were filled with people cheering us. There was even live music.  We were literally running through block parties as part of the entertainment.
It was cold—colder as we ran along the Arkansas River and then across it. There was a massive climb back up to downtown, but I was prepared for that having spent most of the summer running up and down the hills of the new Bluffs addition to the Wichita Falls Circle Trail. Even though I lost contact with the runners who I hoped would guide the pace of my run, I was only slightly ahead of my planned running speed. Yes, I had gone out too fast, and would certainly pay for it later, but it wasn't anything serious.
As I was running, I was not just enjoying the views, I was keeping an eye out for the runners around me, the police guarding the intersections to make sure the traffic was cooperating, and the ground to check for debris or potholes in the road. I was aware of the distance to the next hydration station. I was also taking inventory of my body: muscles, joints, ligaments, temperature, respiration, heartbeat, position of my feet when they struck the ground, and arm swing. Oh, and I had to focus on my bladder to determine when the next porta-potty would be needed (too much information?).
This is no different than any plan, including a financial plan, and especially a retirement plan. Just because you reach retirement successfully (good-sized investment pool, well-crafted budget, and a lifestyle you'll enjoy) doesn't mean you can assume everything will be okay. It's not like there is a crisis around every corner, but you want to be aware of how your personal and family situations continue to fit the world around you.
And just as I used the zipper on my jacket to regulate temperature and zipped it up when temperatures dropped, you'll want a section in your investment portfolio you can depend on to draw from when the markets don't cooperate for a while. Just remember to refill it (zip it back down), when the markets heat up so that you'll have that reserve again when needed.
At about the 11-mile marker there were signs: Those doing the half-marathon keep to the left, those doing the full marathon keep to the right.
That's when it dawned on me. That decision I had made six months ago spending countless hours and wearing out a couple of pairs of shoes in the process… was bloody STUPID! At least that was my thought as I kept to the right and headed out of town toward the endless hills that lie east of Tulsa.