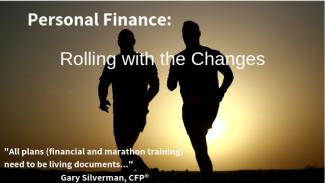 How Training for a Marathon is Like Managing your Finances: Lesson Seven
By Gary Silverman, CFP®
I'm continuing my saga today that revolves around my attempt at running a marathon (with some financial advice slipped in). Last week I discussed how I started to develop my goal. I knew that I was going to run a 26.2-mile-long marathon and that it was part of my hobby (passion?) for running. Now I want tell you how I came up with a 6-month time period for my training. This was a critical part of making my goal (and perhaps later adjusting it) to see when a reasonable date would be to make the attempt. Trying to shorten the training period is a great way to spend more money on medical bills.
Google "Training to run a Marathon," and you'll find a lot of resources. I learned that I needed to run (or a combination of running and walking); that I needed to concentrate on distance rather than speed (or maybe I needed to consider them equally, or maybe speed first, then distance); that I needed to do a long-run every week (or every other week, or 3 out of 4 weeks); that the long run would culminate in the longest run prior to the actual marathon to be 20 miles (or 18 miles, or 16 miles); and that the longest long run should happen three weeks prior to the marathon (or 2 weeks or 4 weeks).
In other words, I learned many opinions and viewpoints about training for a marathon.
Fortunately, I have researched how to invest a person's portfolio for over a quarter-century now. And as any of you who do your own investing research knows: 1) There is a lot of information out there, and 2) Most of all of it conflicts with all of the rest.
So, when I ran into this problem of conflicting information overload it did not bother me too much. I figured that every author (all of whom had run countless marathons and successfully coached others to do the same) was right. At least they were right for some people some of the time.
Now, people hire me to advise them on how to invest their money in a personalized way. I could have hired a coach to do the same for me in my marathon quest. But part of the fun of the journey for me was to mold the plan (I am, after all, a planner).
As people in my field are apt to do, I opened a spreadsheet and laid out many of the training plans side-by-side. I also laid out my calendar as there were trips and events that would require my schedule to be modified. There were also shorter races that I was going to take part in which would have to be adjusted as well.
I came up with a plan and began working it. Changes had to be made. I kept reading and incorporating new knowledge. Problems that would develop in training were used to feed back into the schedule and more modifications were made. The plan was a living document. All plans (financial and marathon training) need to be living documents.
My plan was made, my training commenced, and everything was going well. Please note the word "was." See you next week.
Gary Silverman, CFP® is the founder of Personal Money Planning, LLC, a Wichita Falls retirement planning and investment management firm and author of Real World Investing