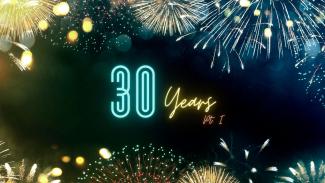 My History in Finance: Precursors
By Gary Silverman, CFP®
30 years ago this year, I started the financial firm Personal Money Planning. Back then it was just myself and a part-timer, also known as my wife, Joanne (there is some debate as to whether she volunteered for this—certainly she was paid like one). Now-a-days we have a full-time staff of five and no volunteers. This had me reminiscing (as old folks tend to do) about how much has changed since the start. Part of this thought revolved around what I'd be writing for the next several weeks. So, let's drift back to 1988.
"Hold it, Gary, 1988 is 35 years ago. You overshot a bit." Not so. After all, beginnings have beginnings and this all started with my move back to Texas after completing my bachelor's degree at Miami Christian College. I was working at Texas Utilities and had the dream of one day getting a Doctorate and teaching college (spoiler alert: this was only partially fulfilled).
Miami Christian was a good school, but it was a lightly accredited Christian liberal arts college. I figured I should start with a master's degree at a better-known school. I liked going to college. Plus, my employer was going to pay for a lot of it. After four years, I earned my MBA at the University of Dallas.
Even back then I was interested in investing and financial planning, which is one of the reasons I was drawn to U of D. They had an MBA track which qualified as the necessary course work to sit for the Certified Financial Planner ™ designation. I could kill those proverbial two birds with one rock (no birds were harmed in the process).
Along the way I thought working full-time, being married, and going to college were not quite enough. To build experience in the area I was studying, I started working for a financial firm part-time. What I mostly learned was that most people working at the firm knew less about financial stuff than I did. Success was measured by sales, not competence (well, other than competently selling).
Fast-forward to 1993. (Yes, finally we begin that 30-year journey.) I have my MBA, obtained the Certified Financial Planner ™ designation, had three years of experience in the financial services industry, and had moved to Wichita Falls from Fort Worth after leaving the electric utilities industry.
In the end I felt the new job was asking me to do what I knew was wrong, so I was contemplating my next step. The department head of the financial planning program at U of D was looking to expand his business, so I became full-time in the industry.
In the first couple of years, I learned there was no real market for financial planning in Wichita Falls, at least not enough to support my family (that would come later). But there was interest in investment management services. I also learned I really didn't like the traditional commissioned sales structure that was prevalent at the time. What that led to, we'll look at next week.