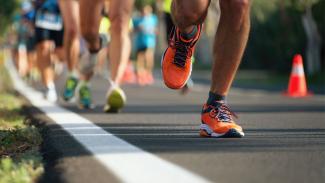 By Gary Silverman, CFP®
Happy Leap Day…Not
I've been busy and was looking forward to having an extra day this month for leap year. The only problem is that it's not a leap year. Speaking of leaping, do you know the basic definition of running is that at some point in your stride, both feet leave the ground, like little leaps? That will be our topic today. (Humor me; it's been a while since I've talked about running.)
As regular readers know, a little over 6 years ago I started running. I was at Endurance House for a Wichita Falls Chamber event when the Wichita Falls Runners (and walkers) Club announced they were starting a Couch-to-5K program. The idea is to take someone whose exercise activity involves a couch and TV remote, and over a two-month period, get them to the point of being able to run a 5K (for you non-metrics, that's 3.1 miles).
Now, most of us have tried running before. We get up New Year's Day, put on our exercise outfit, and try to run a mile. This usually lasts a few days until we finally decide that running isn't for us. Others were athletic earlier in life, but life (and kids) and work (and kids) took away their spare time.
For me it was the "tried and hated it" group. But hearing about this program, as I wanted to try running a marathon, I figured that a 5K would be a good fallback goal. Plus, how hard could it be?
I remember the first night. It was January and it was cold. There were probably 50 of us who showed up. We started with a 5-minute warm-up. Several of us commented that we wanted to start running to try and warm up. After the warm-up, we started a one-minute jog. I thought this was way too short and way too slow. About 30 seconds into it, I was dying (and most around me were too).
An inauspicious start. But slowly and steadily over the next two months, I improved. I was able to complete the 5K "graduation" run and even got a medal. The trainers made sure that no matter what speed you could muster, you'd succeed.
And now your chance starts in a little more than a week.
Train to 5K is the same training program this couch potato used to get off his butt. Sponsored by the Wichita Falls Runners Club, it will start on Tuesday, March 7. There are three runs each week; 5:30 pm Tuesdays at Endurance House, 5:30 pm Thursdays at Midwestern State's Sikes Lake, and 8 am Saturday mornings from United Market Street.
No, you don't have to do every run. Yes, you can still come if you miss the first meeting or three. And the price is right: Free!
To find out more information, you can go to the Running Club's website at https://runsignup.com/Club/TX/WichitaFalls/WichitaFallsRunnersClub or email them at wichitafallsrunnersclub@gmail.com.
I'll be at some of the training runs and hope to see you graduate at the May 6 Spring Fling 5K.
May Ukraine Have Peace