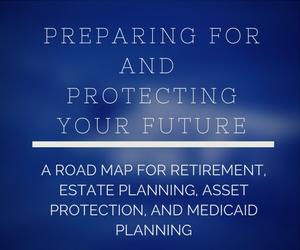 Preparing for and Protecting your Future:
A Road Map for Retirement, Estate Planning, Asset Protection, and Medicaid Planning
Part One: Tuesday March 21, 2017 6PM to 8PM
Gary Silverman, CFP®
Retirement Strategies 1: How to know you can affort to retire (plus when to take Social Security payments).
C.Dan Campbell, Attorney
Essentials of Asset Protection & Medicaid Planning (what you need to know if you or a loved one is either in a nursing home or may be there in the future).
Part Two: Thursday, March 23, 2017 6PM to 8PM
Gary Silverman, CFP®
Retirement Strategies 2: How to invest to make it last (includes a discussion on reverse mortgages).
C. Dan Campbell, Attorney
Essential of Estate Planning (the 6 legal documents you should consider)
Free Seminars held at the Homewood Suites, 2675 Plaza Parkway, Wichita Falls
Seating is Limited; for reservations call 940-696-5015
About the speakers:
Gary Silverman is the founder of Personal Money Planning, a fee-only financial planning and investment advisory and management firm. His "Your Money" articles can be found in the Sunday Times Record News and his book, "Real World Investing: A Sensible Approach from the Guy without the Tie" is available online. 
C. Dan Campbell is the founder of C. Dan Campbell, P.C. and is Board Certified in Civil Trial Law and Estate Planning and Probate Law. As a former assistant professor of business law at Midwestern State University, he lectures frequently on issues dealing with asset protection planning as related to the elderly.