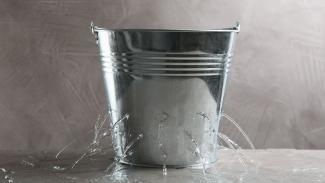 By Gary Silverman, CFP®
It's the New Year and just as the Christmas season seems to start before Halloween, investment and economic forecasts seem to start about the same time. Since early November, I've received calls, emails, letters, white papers, plus attended webinars and zoom meetings, offering dozens of expert opinions on what is expected in 2023. Inflation rates, Federal Reserve moves, tax and regulation legislation, emerging markets, developed foreign economies, the 8, 10, or 12 sectors of the US economy (depending on how you want to divide them), performance of every major index, potential tech breakthroughs, activism, the rise (and fall) of socialism, the evils (and benefits) of capitalism, and the new-whatever-ism have all been covered to various degrees. And all this by very well-paid, well-known (at least in my circles), experts in their fields from some of the largest, or best (at least in their minds), firms in their respective industries.
I am not going to tell you the specifics, the consensus, or what I think is the most likely course of future events. It's not that I don't like you; it's just that most of it is useless.
I say most because there must be a reason I read it. It's important for me to know what others are thinking, and perhaps even more importantly, what others are hearing. Whether it is a reporter for a national periodical or a local TV station, or a client or prospect, or even someone who recognizes me at the store, most people have questions about what they have read or heard.
As Paul Harvey used to say, there's "the rest of the story". Hearing a plethora of thoughts, analysis, and (mostly) educated guesses allows me to help put things into perspective when most folks are only able to listen to one or two pundits at most. It helps to keep me grounded, so when one idea resonates with me, I remember it is only a part of many possible future scenarios.
All that boils down to me not telling you where I think inflation, interest rates, the bond market, stocks in all their variety, the local, US, and global economies, or pretty much anything else is going. One thing I do know for sure: We can't predict the future with accuracy and consistency; rather we do the best we can to position ourselves (and our clients) for success no matter the outcome.
In doing so, I hope you take it as a hint to prepare for the best, the worst, and all the in-betweens. Could inflation stick around for another year or even get worse? Yup! Can it moderate and succumb to the attacks of the Fed?  Yup! Any other scenario is possible, including the worst recession anyone is imagining or even no recession at all.
Prepare for only one eventuality and you'll be gloriously right…or terribly wrong.
May Ukraine have peace.
Gary Silverman, CFP® is the founder of Personal Money Planning, LLC, a Wichita Falls retirement planning and investment management firm and author of Real World Investing.